Sites and Links Against Methamphetamine
Anti-meth.org
Our goal is to educate the public about the dangers of crystal meth and support local prevention, treatment and enforcement efforts. We are a non-profit organization taking a stand against the drug Methamphetamine in Cleveland , GA. (White County) and in our surrounding communities of North Georgia.
MEADA (Coalition of Wright County, MN)
Methamphetamine Education and Drug Awareness (MEADA) Coalition of Wright County, MN, was developed to educate youth, families, and citizens on the dangers of drugs with a focus on methamphetamine. This coalition was started in January 2004.
http://www.meada.org/
Meth Watch Program
Meth Watch is a voluntary program that involves a variety of people at the community and state level, although retail involvement is the cornerstone of this program. This web site provides states interested in learning more about the Meth Watch program with the resources needed to implement and maintain a Meth Watch program.
http://www.methwatch.com
Community Partnership of the Ozarks
http://www.nometh.org/
Meth Education for Elementary Schools (MEDFELS)
This web site was developed in conjunction with a grant to develop and implement a drug education program that assists third and fourth grade teachers in presenting an accurate portrayal of the dangers associated with the manufacture, distribution and use of Methamphetamine.
Drug Free NWA
The mission of DrugFreeNWA.com is to empower, educate, and inform the public, parents, teachers and community members; so together we can manage the drug problem in Northwest Arkansas.
http://www.drugfreeNWA.com
Stop Drugs
California Narcotic Officers' Association and California Department of Justice. Information on methamphetamine, links, research, prevention, treatment and enforcement information.
http://www.stopdrugs.org
Life or Meth Web Site
Sponsored by the Midwest HIDTA. Local Treatment and Law Enforcement contact information from each of the 6 HIDTA states. Well organized, quick loading, limited in information and some pictures may be offensive to young readers.
http://www.lifeormeth.org
Drug Free America
A comprehensive database of drug information: what they do, what they look like, their history and slang terms.
http://www.drugfreeamerica.org/
Mothers Against Methamphetamine
A Christian response to the drug problem distributing literature she has written to educate the public about methamphetamine and other drugs.
http://www.mamasite.net
Midwest HIDTA (High Intensity Drug Trafficking Area)
The mission of the Midwest HIDTA is to measurably reduce and disrupt the importation, distribution, and clandestine manufacturing of methamphetamine in the five state region and other parts of the United States, thereby reducing the impact of illicit drugs and related violent criminal activity.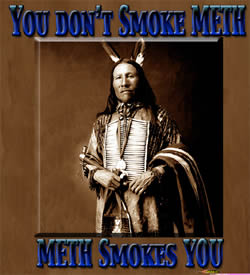 Drug Strategies
A non-profit research institute that promotes more effective approaches to the nation's drug problems and supports private and public initiatives.
http://www.drugstrategies.org/
DEA - Publications - Get It Straight!
U.S. Department of Justice site aimed at informing children about drugs.
http://www.usdoj.gov/dea/pubs/straight/meth.htm
DEA - Drug Enforcement Administration
Drugs of Concern
http://www.usdoj.gov/dea/concern/concern.htm
Methamphetamine Strike Force - San Diego County
The Meth Strike Force is composed of approximately 70 member organizations and agencies, including local, state, and federal representatives from public health, law enforcement, judiciary, education, treatment, prevention, and intervention agencies.
http://www.no2meth.org/
Crystal Meth Anonymous
A 12 step fellowship for those in recovery from addiction to crystal meth. There are no dues or fees for membership. Membership in CMA is open to anyone with a desire to stop using drugs.
Tweaker.org
This website contains information for gay and bisexual men who use methamphetamine. We in no way promote or encourage the use of this controlled substance. Instead, we seek to help individuals minimize the harms associated with use of methamphetamine. Because of our harm reduction goals, some language and imagery may not be suitable for individuals under 18 years of age. Also, if you quit using methamphetamine or are trying to quit, you may wish only to view the sections of this website that pertains to managing, cutting down, and quitting.
http://www.tweaker.org/
Links submitted by readers:
Lead on America
Promotes the partnership between local law enforcement and citizens in an effort to increase the community resources that have been impacted by the explosion of illegal drug activity in the Northwest.
http://www.leadonamerica.org/
Facing the Dragon
David Parnell is a motivational speaker. He travels across the country to share his story and struggle with methamphetamine. David has devoted his life to fighting Methamphetamine.
http://www.facingthedragon.org
Mediations (FREE)
www.freemeditations.com/index.html
Meth Madness
www.methmadness.com/methmadnessmain.html
Street Drugs
www.streetdrugs.org/methamphetamine.htm
Narcotics Anonymous
www.na.org
No ICE
www.noiceinparadise.com/photos.html
12 Step Cafe
http://www.12steps.org
Songs of the Twelve Steps
www.12stepsongs.com
Celebrate Recovery
www.celebraterecovery.com
Crystal Meth Anonymous
www.crystalmeth.org/index.php
Kids Against Drugs
www.kidsagainstdrugs.com www.methequalssorcery.com
NA AA Recovery Zone
www.nickscape.net/recoveryzone
Recovery Emporium
www.recoveryemporium.com
A Meth Diary
www.kcstar.com/projects/methdiary
Big Book Concordance
www.royy.com/concord.html
Smart Recovery
www.smartrecovery.org
---